1969 Mercedes 280 SE Convertible
silver with black interior and black soft-top
69,768 miles
This 280 SE Convertible features all the available options offered for the 111 series:
AT shifter on the floor
Air conditioning
power windows

This car spent most of its life in California and Arizona. It has been extremely well maintained and underwent a restoration within the last 2 years.
The paint is about 7 years old and still in remarkable condition with only the smallest imperfections - and even those are hard to find. Almost every piece of chrome, side window frames and bumpers included were removed and refinished. It shows stunning.
There is a tiny little rock chip on the windshield. We decided not to replace it and to keep the original one in the car.
Michelin Harmony P205/70R14 tires are in near new condition.
Just within the last 3 months the interior received a full overhaul:
Full black leather seats, door panels, carpet kit and sun visors.

Since the inside was already apart, all of the wood trim was sent in to one of the best restoration specialists to be completely redone.
Only the face plate of the original Becker radio was installed in the dash. The radio unit is in a box in the trunk. We were thinking of putting a newer stereo in the glove box to obtain the original look. Anyway it is not hooked up as of now.
A nice black leather boot cover is present.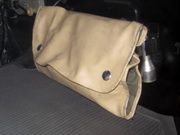 Engine sounds fantastic - no hidden surprises there. We found a receipt in the glove box dated May of 2012 for the amount of $7,536.-. The mileage was listed at 67,814, that is about 2,000 miles ago.
Here is a list of some of the work done at that time:
tune up, lower control bushings, eccentric pin kit, new muffler system front to back, power steering repair kit as well as a new Convertible top was installed including including the headliner.
To do the car justice the complete engine compartment was restored by one of our best Mercedes experts in the area. When you open the hood you think this Mercedes just rolled off the production line.
The AC system was just recently converted to R134 and blows ice cold air
Spare tire, jack and the correct rubber mat are in the trunk. The owners manual is also included.
The previous owner went through a divorce and had to sell the car. He thought that the above miles could very well be original but again we have no proof of that.
Please click on thumbnails to enlarge images.
Thank you for your interest, and have a nice day!