vin# 019003
built date is February 8th 1967
304 G Horizon blue
mileage shows 7,459
4-speed manual transmission
soft-top only model

This car was owned by one family since new and spent its entire life in California. Even both of the first issued black license plates are still in place. The Mercedes Benz data card confirms that all numbers are matching and correct.
An extensive collection of repair bills and receipts show that this 230SL had definitely been cared for. One work order, dated 8-22-2003 shows that the engine underwent a complete overhaul. Head gasket, piston rings, oil pump, bearings, valve guides and seals, chain tensioner and the radiator were replaced, totaling $6,788.- The recorded mileage at that time was 5,022. That's about 2,200 miles ago.
Just by roughly adding up the invoices it seems that well over $100,000.- were invested over the years. I have not seen another car with so many records on hand.
Paint is in very nice with only some small imperfections.
Chrome is mostly clean and barely shows its age.
The Doral P195/70R14 tires are in very good condition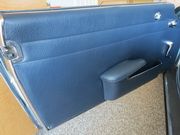 Just recently the complete wood on the dash was replaced with a new Burl wood. It shows stunning.
The factory radio was replaced with a more modern one combined with a trunk mounted CD changer.
Also added was an A/C unit which is still blowing cold air.
A new blue German soft-top was just installed as well.

Undercarriage looks unmolested with no signs of rust or accidents. The nice sheet metal, floor pan area, spot welds and notches confirm that this is a good original CA car.
A new rubber trunk mat is included as well as the spare tire with its cover
Original owners manual, radio manual, stamped service manual and most of all original registration cards are in a folder. Even the factory metal plate with the original owners name stamped on it is included.
Please click on thumbnails to enlarge images.
Thank you for your interest, and have a nice day!